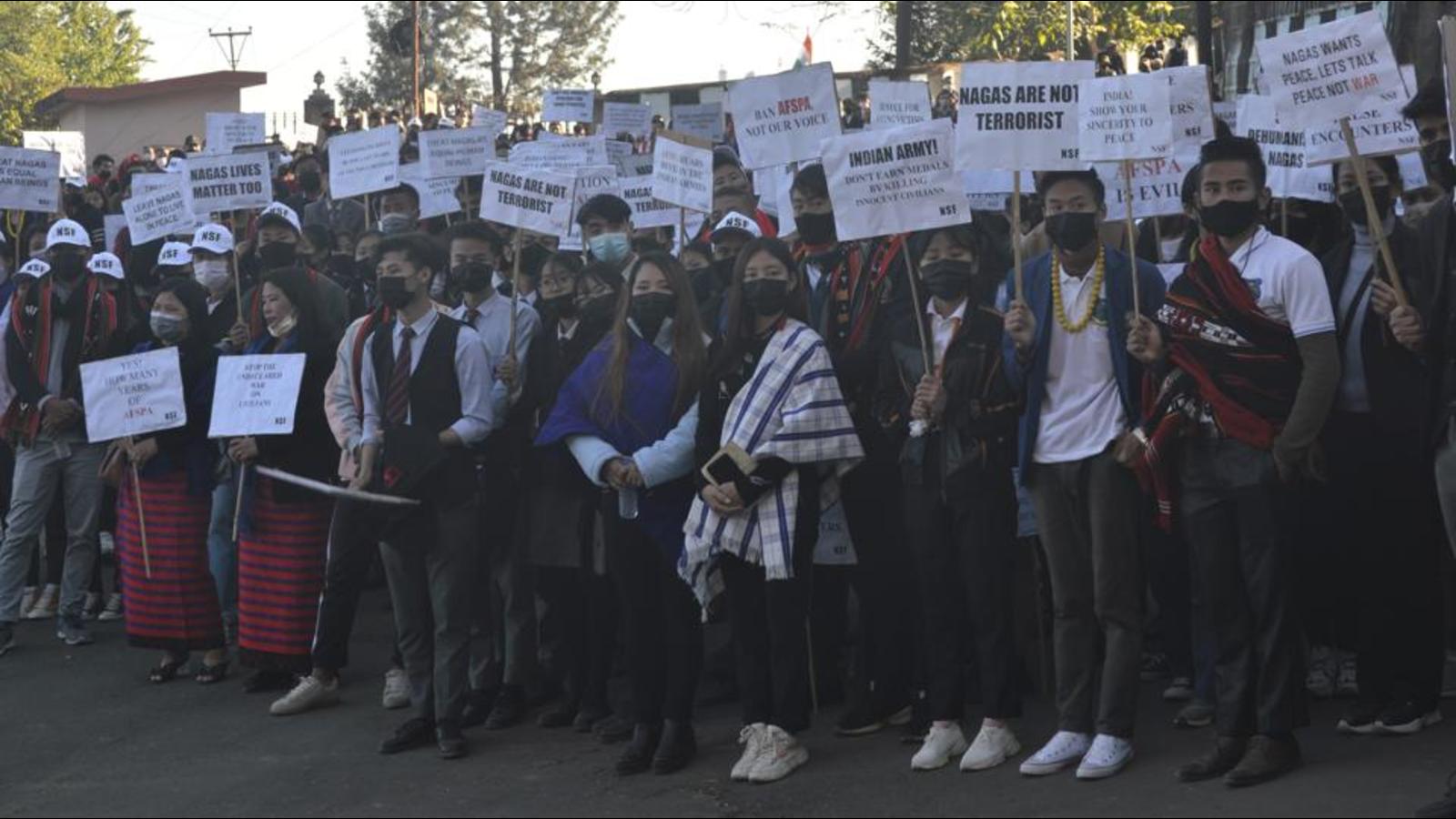 Nagaland's capital city Kohima came to a standstill on Friday as hundreds of people, most of them young students, took to the streets to demonstrate against the controversial Armed Forces (Special Powers) Act 1958 (AFSPA) and demand for its withdrawal.
Protests have grown across the north-eastern states for the removal of AFSPA which protects armed forces from prosecution for killings in "disturbed areas", notably in the backdrop of the killing of 13 civilians at Oting village in Nagaland's Mon district on December 4 by security forces in a botched military operation.
"Black, savage law", "Repressive Act", "Draconian", and "Horrible Law" were some of the terms used to describe AFSPA at Friday's public rally, organized by Naga Students' Federation (NSF). The rally was joined by various Naga civil bodies including the Naga Mothers' Association (NMA), Naga People's Movement for Human Rights, Global Naga Forum, and Forum for Naga Reconciliation, the North East Students Organisation (NESO) and several officials of the All Assam Students' Union to show their solidarity.
"Today, we are gathered here utterly shocked, angered, in grief and in disbelief beyond words at the extra-judicial and mindless act of terrorism committed by the armed forces of the Government of India upon peaceful civilians in our Naga Homeland. So long as AFSPA continues to exist, our lives, our land and our people will always be tormented by fear and uncertainty. We demand that this draconian law is repealed once and for all and that human rights are restored in the homeland of the Nagas," NSF president Kegwayhun Tep said at the rally.
Sharing the pain of a mother in the conflict zone, NMA advisor Dr. Rosemary Dzuvichu asserted that Nagas have endured decades of militarization in their homeland since AFSPA came into force where not only the menfolk but women and children were subjected to unimaginable degrees of terror and suffering. Citing the recent Oting massacre, she lamented that even now Naga people were treated like enemies of the state when peace talks are in progress.
Dzuvichu pointed out that Naga men, women, the youth and the children cannot afford to continue to be maimed, threatened and killed by the Indian armed forces with impunity granted by AFSPA, and expressed that it was time the government of India listened to the voices of the people.
"Let the tears of mothers be dried by the withdrawal of this horrible draconian law," She added.
"We grew up hearing stories of atrocities committed by the Indian Army on our people. Today we have seen it with our own eyes. How long will we witness such killings? This is not acceptable anymore. Today it has happened in Oting village, tomorrow it could happen in your kitchen," stated Sepekyu Sangtam, the vice president of Eastern Naga Student's Federation (ENSF).
He highlighted how the Eastern Nagaland People's Organization (ENPO) the apex body of six Naga tribes in five districts- Mon, Tuensang, Longleng, Kiphire, and Noklak- have declared non-cooperation with the armed forces until justice was delivered to Oting victims and AFSPA repealed from Nagaland.
Expressing solidarity with Nagas at the rally, NESO advisor Samujjal Bhattacharya stated that the indigenous people of the seven northeast states stand with Nagas on their resentment against AFSPA.