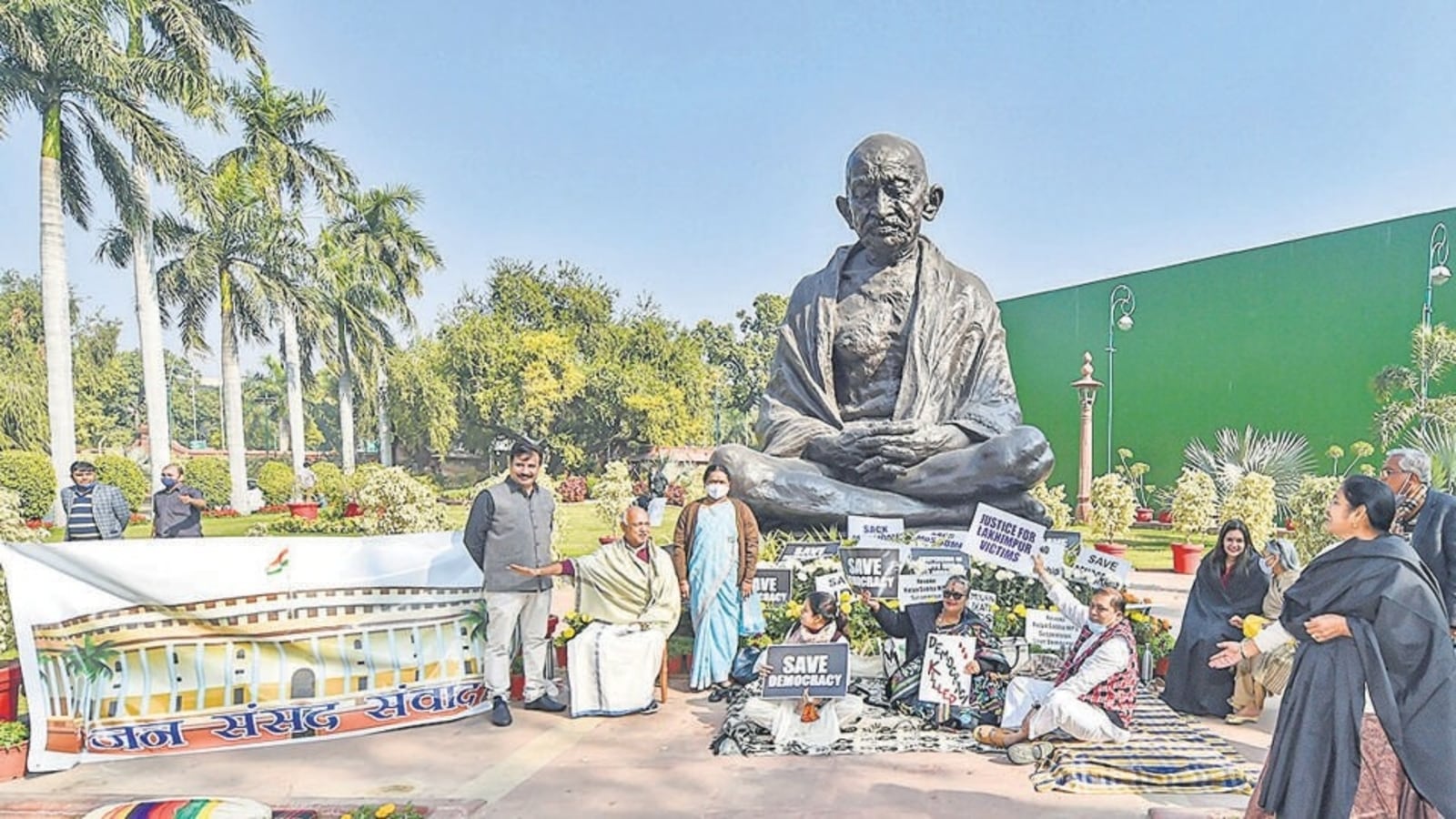 Opposition parties protesting against the suspension of 12 lawmakers hosted a jan sansad or people's parliament near the Mahatma Gandhi statue in the complex on Friday, soon after the Upper House was adjourned for the day.
Chairs were put on both sides of the statue, and Communist Party of India (Marxist) floor leader Elamaram Kareem presided over the jan sansad. Congressmen Ripun Bora and Akhilesh Pratap Singh were deputed as the leader of the House and parliamentary affairs minister respectively, while a chair with a photograph of Prime Minister Narendra Modi was used to take pot shots at his absence from the Upper House.
"He has not come to the (Upper) House even once this session," said Trinamool Congress member Dola Sen, one of the 12 MPs suspended for unruly scenes in the previous session.
Apart from the suspended MPs — which included Phulo Devi Netam (Congress), Priyanka Chaturvedi (Shiv Sena) Chhaya Verma (Congress), among others — their party colleagues Jaya Bachchan (Samajwadi Party), Mausam Noor (Trinamool Congress), Vishwambar Prasad Nishad (Samajwadi Party) and Nadimul Haque (Trinamool Congress) also joined the protest proceedings.
Opposition members have been adamant that the chairperson should revisit the decision to suspend the MPs. They have also refused to apologise for disruptions in the monsoon session, a precondition set by the government for revoking the suspension.
"We have been telling them to apologise to the House. They climbed on tables, jostled with marshals and disrespected the Chair and the House," minister of parliamentary affairs, Pralhad Joshi, said earlier in response to the Opposition's refusal to apologise.
Earlier, in the day, Rajya Sabha chairman M Venkaiah Naidu adjourned the House till Monday after urging both sides to end the impasse over the suspension.
"…Today, I had a talk with the Leader of the House and also some senior members of Opposition. I would like to appeal to each one of you to please arrive at some consensus to see to it that the House functions normally. In order to facilitate discussion among yourselves," Naidu said.
According to people aware of the details, Naidu dialled and also met senior Congress leaders in the presence of Leader of the House Piyush Goyal in the morning in a bid to break the logjam over the suspensions. With both refusing to relent, the meeting bore no results, the people said.