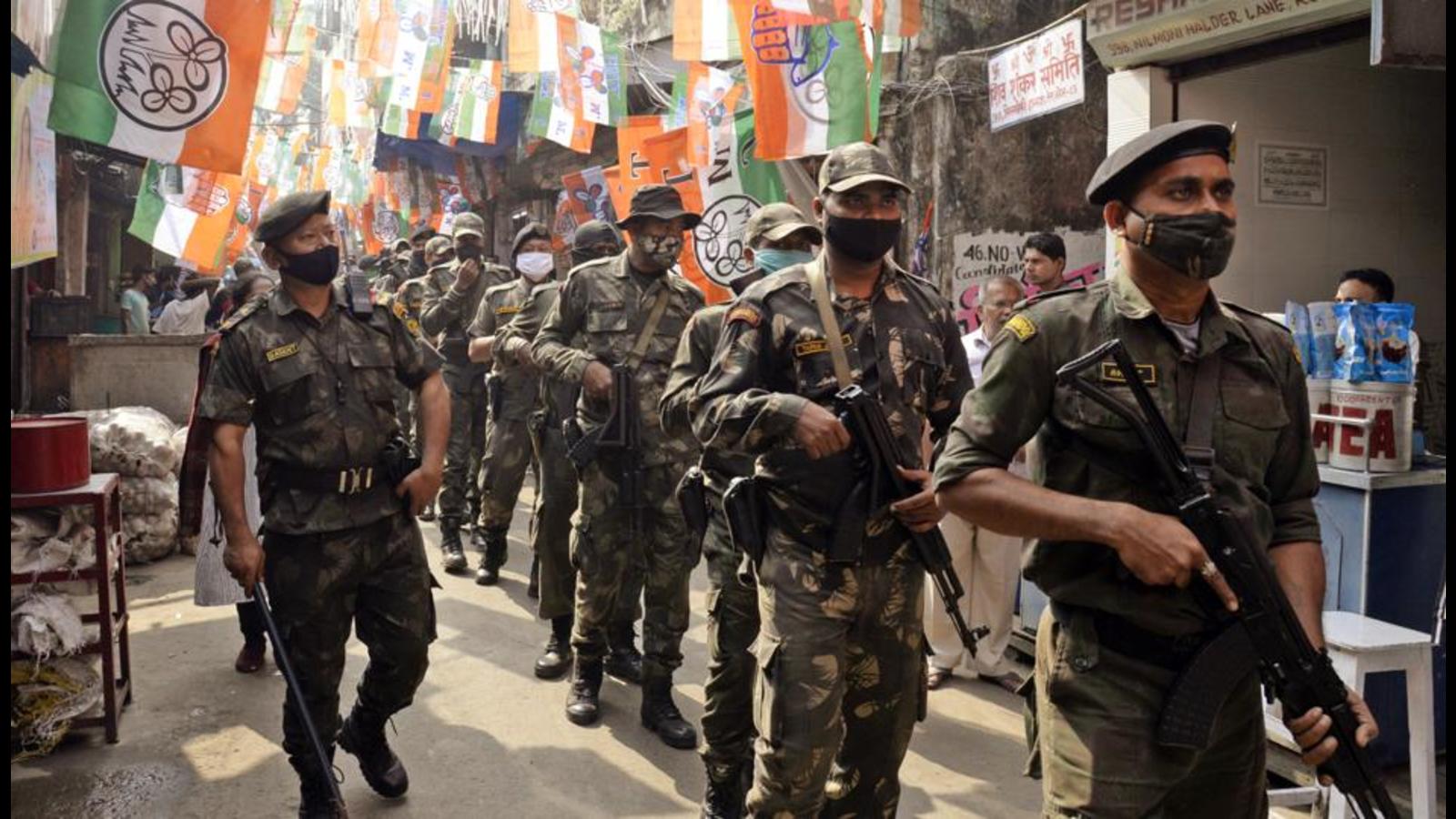 Security was tightened all over the Bengal capital and its entry points as the city geared up for the Kolkata Municipal Corporation (KMC) elections on Sunday. Prohibitory orders under Section 144 of the Code of Criminal Procedure (CrPC) were clamped within 100 metres of all polling stations.
More than 23,500 policemen have been deployed to ensure the safety of voters and the candidates contesting in the city's 144 civic wards. The Trinamool Congress (TMC) currently controls 126 of these seats and is expected to repeat its performance because of being in power, political observers feel.
The Bharatiya Janata Party (BJP), which won five seats in the 2015 polls, alleged that the ruling party had ferried in outsiders to create trouble on Sunday.
"Our leaders have spotted people from the districts coming to Kolkata in buses. We apprehend trouble. The TMC never allows free and fair elections," said Bengal BJP president Sukanta Majumdar.
Kolkata police commissioner Soumen Mitra, who inspected the security arrangements and ordered random inspection of vehicles in the city at its entry points, told the media that all precautions have been taken.
"We are confident that the elections will be peaceful," Mitra said.
The state election commission (SEC) has installed security cameras inside all polling booths, counting centres and facilities to be used for storing around 6,500 electronic voting machines (EVMs) following an order of the Calcutta high court passed on December 16. The petition was filed by the BJP.
The BJP had also moved the high court seeking deployment of central armed police forces (CAPF). It told the court that BJP candidates and voters may face violence on Sunday and cited the alleged killings after the March-April assembly polls as the ground for such apprehension.
The BJP's petition was rejected by a single bench on Thursday and the division bench of chief justice Prakash Shrivastava and justice Rajarshi Bhardwaj on Friday night. The party challenged the order in the Supreme Court but no hearing was held till Saturday evening.
"The high court orders have proved that the BJP is making baseless allegations to divert people's attention. The party could not even find any strong candidate," said TMC state general secretary Kunal Ghosh.
The police on Saturday evening arrested three men from the Taratala area when they were found to be carrying firearms.
State BJP's chief spokesperson Samik Bhattacharya said, "If there is even one spot of trouble during the polls, we will move the court and file a complaint with the special investigation team that the high court formed to probe the violence after the assembly elections."