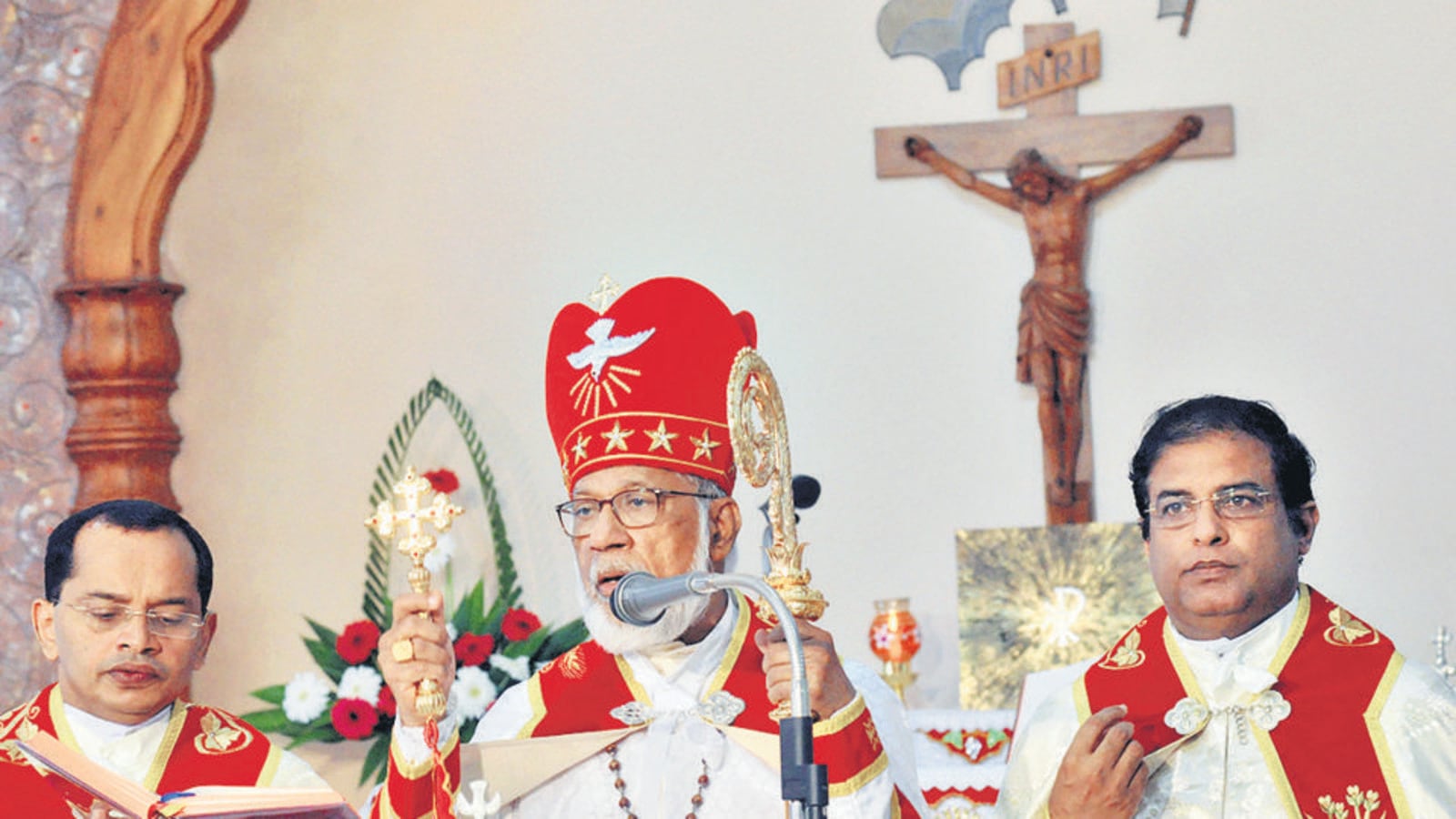 Many Catholic churches in Kerala last Sunday witnessed protests against the directive to implement a uniform way of conducting the Holy Mass from November 28 and burnt copies of the directive at several places.
The Synod (supreme council of church to decide on doctrine and administration) had issued a directive in September to all dioceses under the Syro-Malabar church to conduct the Mass facing the altar from November 28, which also marks the church's liturgical calendar.
Many churches in Ernakulam-Angamally, Irinjalakuda and Faridabad (national capital region) dioceses kept away from uniform Mass on November 28 citing exemptions.
Synod sought explanation from the oriental congregation saying exemption was only a temporary reprieve and all should embrace the new form at the earliest, people familiar with the development said.
Almaya Munnettam, a laity organisation in Ernakulam-Angamally Archdiocese, which is leading the initiative against the uniform Mass, warned of serious consequences if the church goes ahead with its directive.
"We approached Pope Francis and Cardinal Leonardo, perfect of the oriental congregation, and got exemption but the church is pushing ahead with its decision. We will not allow this to happen," said Almaya Munnettam convenor Binu John, adding that any move to dilute exemption will be opposed.
John said the latest notice seeking explanation from dioceses which failed to conduct the new form of Holy Mass angered some section.
Protestors want independent rituals to stay and fear indigenous practices will vanish with uniform process, said people familiar of the development , and added that growing dissent may snowball into a major crisis and even lead to a split, if not solved amicably.
"It is not simply facing the altar or not—whether to follow Syrian or Roman origin is the moot question here. The issue has been brewing for more than four decades but of late it gained prominence," said George Podipara, a church watcher and a senior journalist, adding this is the main reason behind some of the recent feuds in the Syro-Malabar Church including dissent against senior most priest of the state Cardinal Mar George Alancherry.
"It is true, earlier believers simply followed what priests and bishops said but now times have changed. It is not a mere friction over the Mass, it is a struggle between fundamentalists and progressive forces in the church," Shaiju Antony, Almaya Munnettam spokesperson, said.
Antony said orthodox section is pushing the church back by imposing uniformity and ignoring time-tested changes.
Syro-Malabar Bishops' Synod and editor of Light of Truth, a fortnightly, Father Paul Thelakat said that all types of fundamentalism impose uniformity.
"Uniformity takes away local diversity. The protestors are anxious about the concept of authority which is not Christian but autocratic. Imposing uniformity is not at all a participatory way of exercising authority," Thelakat said.
Protestors said they have been facing to the people for entire duration of the Mass and the new directive makes difficult for them to face the altar throughout the Mass, and they insist for a 50:50 formula—half of the Mass facing believers and half facing the altar.
However, supporters of the uniform Mass said only a minuscule section of priests and laity were opposing new changes.
"We have been following the 50-50 formula for quite some time. It is time to change. The liturgical form is an identity of the church and it needs to be uniform," said media commission secretary Father Alex Onampally, adding that dissenting priests and believers will be placated.