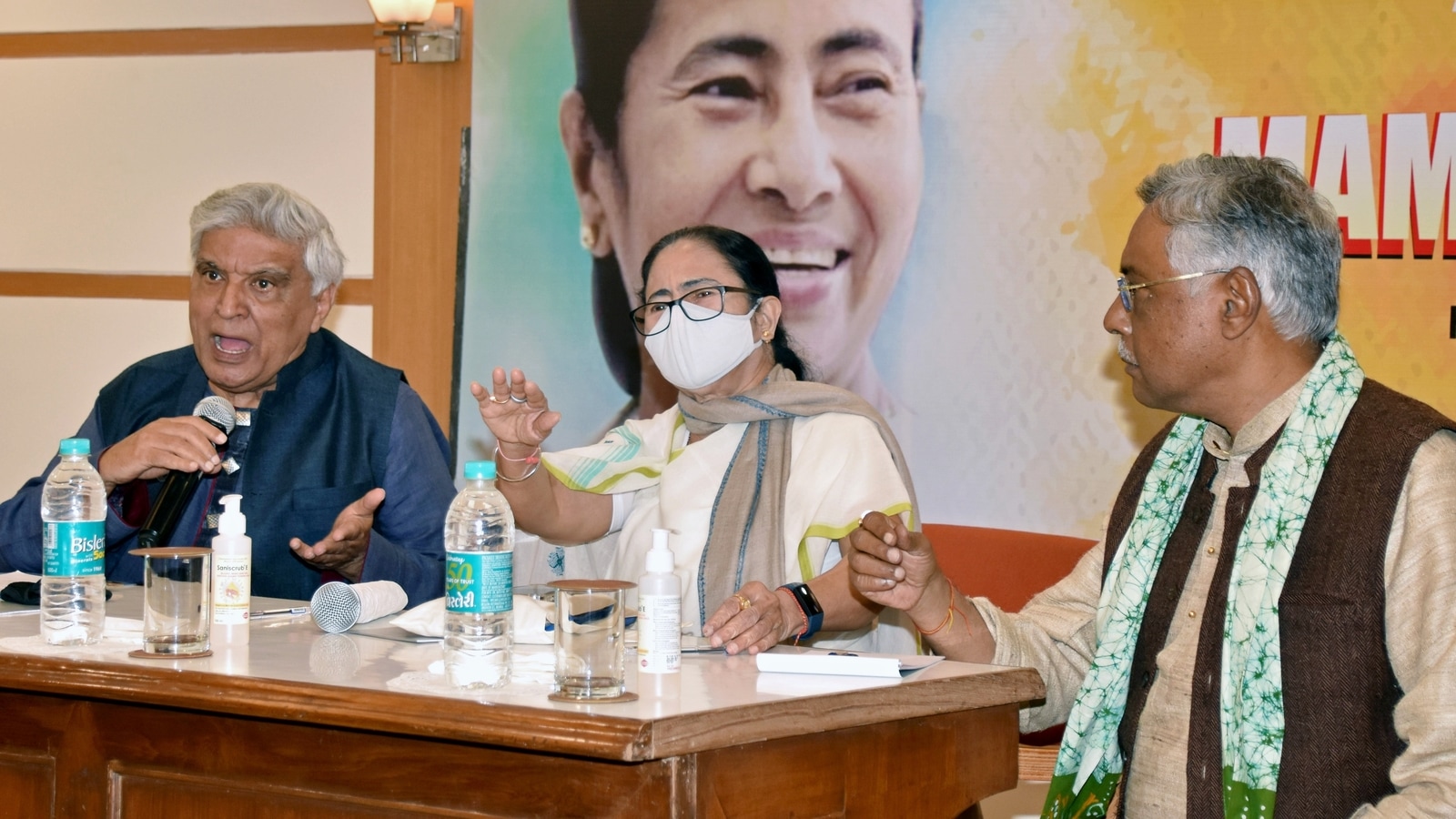 The BJP has slammed West Bengal chief minister Mamata Banerjee for allegedly disrespecting the national anthem after she was seen standing up midway of the national anthem during a press conference in Mumbai on Wednesday. In videos doing rounds on social media platforms, Mamata can be seen sitting again finishing the anthem abruptly. On Wednesday, the Trinamool Congress (TMC) supremo was in Mumbai to meet Nationalist Congress Party (NCP) chief  Sharad Pawar to make a pitch for unifying opposition parties against the ruling BJP at the Centre.
She also addressed a press conference, during which she sang the national anthem, but stopped midway and concluded by saying "Jai Maharashtra. "Today, as a Chief Minister, she has insulted the culture of Bengal, the national anthem and the country, and Gurudev Rabindranath Tagore!" tweeted the West Bengal BJP unit as it shared the 16-seconds clip showing Banerjee singing the national anthem.
Following this, more BJP leaders also came out to slam the leader. "Our national anthem is one of the most powerful manifestations of our national identity. The least people holding public office can do is not demean it. Here is a mutilated version of our national anthem sung by Bengal CM. Is India's opposition so bereft of pride and patriotism?" tweeted BJP leader Amit Malviya.
BJP West Bengal President Dr Sukanta Majumdar also took to the microblogging site and questioned whether the West Bengal chief minister committed the act "knowingly". "Bengal CM Mamata sitting at a constitution post insults the National Anthem at a gathering in Mumbai. Doesn't she know proper National Anthem etiquette or is she insulting knowingly?" Majumdar wrote on Twitter.
Maharashtra BJP leader Pratik Karpe also took shots and said, "Isn't this demeaning National Anthem? What were the so-called intellectuals present doing when CM Mamata started the National Anthem in a sitting position. Not only that, then she went ahead and abruptly stopped it in between."
No TMC leader has reacted to the incident as of yet.
Meanwhile, with an eye on Delhi, the TMC chief on Wednesday met Pawar at his residence on the second day of her three-day visit to Mumbai.
Following the meeting, Banerjee said that there was no United Progressive Alliance (UPA) left in the country as he asked opposition parties to come together to oust the BJP at the Centre.
"What is UPA? There is no UPA," said Banerjee. "Considering today's situation and the ongoing fascism, a strong alternative force is required in the country against it. No one can do it alone. We all need a strong alternative and if someone is not ready to fight, then what can be done," she also said without naming Congress.
On Tuesday, Banerjee met leaders of the Shiv Sena, the biggest constituent of Maharashtra's ruling alliance that also comprises the NCP and Congress.